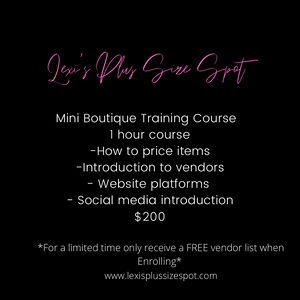 1 Hour Coaching Session and Vendor List
Are you simply needing a jumpstart with starting your boutique ?
Are you wanting to learn but don't have the funds yet for the 1-on-1 Mentorship and training program ?
This course is for you ! This 1 hour course is a high level overview of starting your boutique . We will cover the listed topics and a few more if time allows . 

Includes FREE Ultimate Vendor List . 
Don't wait ! Start now ❤️
In this guided conversation, we will discuss: marketing needs specific for your business, a review of all social media accounts, feedback on your website's platform, and assistance with inventory selection. You may also ask any additional questions pertaining to your business towards the end of the meeting.. ALL sessions are via Zoom! Vendor Lists includes current manufacturers and distributors that Lexi's Plus Size Spot currently utilizes to stock inventory. Lexi will also give access to person of contact for specific vendors and additional information regarding quality of clothing and customer experience. All merchants have been verified and reviewed for you to use at leisure.  Purchasing this vendor list gives you access to women's wear, active wear, tees, and more! THIS PRODUCT IS FINAL SALE AND CANNOT BE REFUNDED. tees, and more! THIS PRODUCT IS FINAL SALE AND CANNOT BE REFUNDED.